Lord Harding of Petherton
FIELD MARSHAL LORD HARDING OF PETHERTON 1896-1989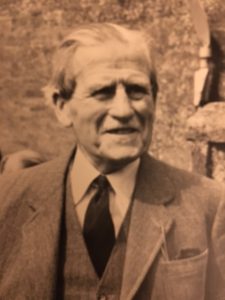 Allan Francis Harding was born in South Petherton in 1896 and had an illustrious army career rising to the rank of Field Marshal, serving as Chief of the Imperial Staff 1952-55 and then was Governor of Cyprus 1955-57. The Prime Minister Harold MacMillan wrote a letter to Lord Harding when he left Cyprus. In 1957, Lord Harding was appointed Colonel of The Life Guards and therefore to the ceremonial job of the Gold Stick to HM the Queen. The Gold Stick-in-waiting's duties are to protect the person of the Sovereign any orders relating to the Household Cavalry and pass them to the Silver Stick-in-waiting for promulgation. In practice this meant attending the Queen at the Trooping of the Colour, mounted on horseback and carrying a baton – no easy feat when you have several fingers missing. He became Lord Harding of Petherton in 1958.
Lord Harding in WW1
Liz has in her possession notes he made for about his childhood and family in 1979 and Hanna has the autobiographical notes he wrote for her in 1974 which cover his military career. These were later used by Field Marshal Lord Carver when he was writing the biography of Lord Harding. Another cousin supplied copies of Lord Harding's letters written during WW1 to his first cousin and Aunt.  A snippet regarding WW1 tells the story of Lord Harding's lost compass.
For further information about Lord Harding, see the biography by Michael Carver called "Harding of Petherton" (Weidenfeld and Nicholson 1978).